So i told you i had some amazing interviews lined up and boy, i didn't disappoint! My second interview in this series is none other than the amazing and endearing photographer Rosie Hardy!!!!!
I want to mention also that having chatted to Rosie and read about her online i don't know if you could find a more down to earth and humble photographer around. Not only is she talented but she seems to genuinely not realise just how good she really is. I hope you enjoy an insite into her work and her world.
1. Fill me in on your background, where are you from and how did you get in to photography?
I'm 19, from a small town called Buxton in Derbyshire. I got into photography when I was around 14/15years old, after doing what all teenagers do and getting a Myspace! I was exposed to so much photography on there (good and bad!) that I started fooling around and taking pictures on a point and shoot. After getting a small yet mostly positive response, I decided to keep going and eventually ended up taking on the 365 Days Project on flickr.com. This involved taking a self portrait a day for the year, and it was around half way through that project that I realized how passionate I was about photography, and how it served me much more of a purpose than just making myself feel good online. I started shooting models and putting a lot more effort into concepts and shoots, and a year and a half on here I am, doing exactly the same thing as I was back then but to a slightly bigger audience.
2. Who has influenced you the most in terms of photography?
I've had alot of influences over the past couple of years - at the start of my 365 Project, I was an avid lurker on Lara Jade's flickr page, and I also loved Denis Olivier's work. About mid-way through my project I discovered Tim Walker, and a few months later got given his book as a present - my whole concept of what I could do with photography went flying out the window when I got his book. It just clicked to me that I could do whatever I wanted, be whoever I wanted to be, and there was nothing stopping me. When you look at Tim Walker's pictures, you see why. Not only is it great technically, but his concepts and vision are completely beautiful in every way. He's like a child trapped in an *exceptionally creative* adult's body. His imagination just blows my mind, and inspires me so much. I also love the eerie, subtle awesomeness that is Gregory Crewdson's photography, and really anyone that really goes out there to create something exceptional. I think it's taking a concept one-step-further that inspires me most.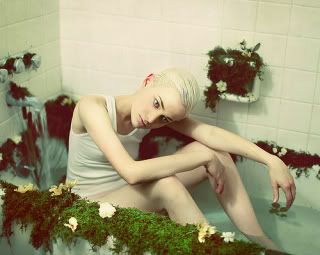 3. What is your favourite style of photography (Self portraiture? Fashion? Documentary)?
I love portraiture as a whole. I much prefer photographing other people and looking at other people, as it's always much more fun to imagine something about someone than it is to get involved in their reality as a person. I like how fashion gives you a wider creative spectrum if you want to call it that, I like how documentary photography can shake you to your bones, I like how landscapes can completely take your breath away. My favourite favourite kinds of photography do all three ;)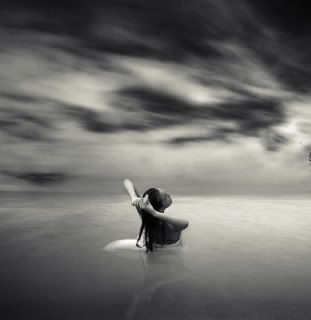 4. What is your process when taking photo's, from getting ideas to editing?
Usually, in what I would consider to be a successful photo + shoot, the location comes first - if you have a good location to work with, the concepts seem to flow more easily for me. Before a client shoot I always try and visit the location first so I know what kinds of concepts would work well. Then it's a case of just thinking "how far can i take this? What can I do to this that is completely out there but still plausible?" I try to have a mental list of all low-budget materials that can transform easily - like paint, flour, flowers, books, water. Then I try and pick one out and combine it with the location. For example, I was on the bus the other day and we drove past a pretty wall with some purple flowers creeping over the edge a little. My first instinct is to just put a model there "and make it pretty", but then I got to thinkin' - I could take purple powder paint and completely drench the model, or throw it in away that left a "human shaped space" behind her, or make her a dress out of purple flowers... there are endless possibilities! Another good method of thinking up concepts for me is to think "What would *insert inspiring photographer here* do?"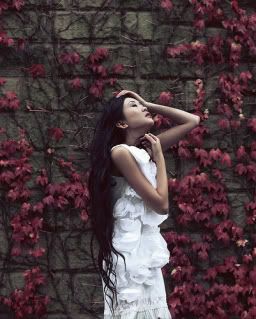 5. What are your tools of the trade?
I have a Canon 5D Mark II, a 50mm 1.4 and a 24-70mm 2.8. I borrow my friend Ali's 70-200mm 2.8 lens, I also own a tripod. The rest is done in GIMP!
6. Where do you hope to go with your photography?
I'm not sure yet, but I know I want to say something with it, I'm just not sure what. Right now, I'm just having so much fun creating pictures that I love, and showing in a photograph how I see the world. I take just about any job I am offered because I am still experimenting and finding my own ground, and trying to apply my own style to different kinds of photography. In the next 5 years, I'd like to have made a decent income to support my crazy prop-buying sprees and have a studio of my own.
7. Why do you think people are drawn to fashion photography and editorials?
Gorgeous girls and pretty pictures! I see it as a nice form of escapism. You just get to believe in a world which doesn't really exist but there's no reason not to enjoy hoping it might. I buy into products and pretty clothes as much as the next person, because it makes me feel good. And we all need to feel good! Everyone deserves to. Whatever anyone likes about it - if it makes you happy, keep on doing it!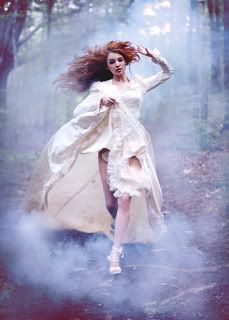 8. On your Flickr it seems like you focus on one shot at a time, do you do series and not put them up or do you prefer to focus on one fashion shot at a time?
Yes - when I start out on a shoot, I usually have just one image in mind to create. I'll happily post outtakes, but usually I'm just after one image that I can focus all my time and energy into.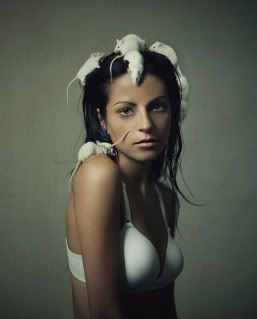 9. What is your best tip to taking a striking fashion portrait?
Don't think clichéd fashion shoot. Instead of just having your model strike an "edgy" pose, try combining it with a really soft, fragile expression or the other way round. Have your location tell a story. Put a meaning into it. Instead of just having "model posing on bridge", think of a story - why is she on the bridge? Should she have a prop? Maybe a bicycle? Can you alter the bicycle at all to reflect her personality so we think of her as more than a girl who likes bridges? Maybe have some apples in the basket, maybe be collapsed across the bicycle so it looks like she's been trying to get away from somewhere or something. Have the light coming through from the golden hour to make it seem more cinematic. It seems like so much effort and it's so easy to go "blah, i'll make it look cool in post production" but it really makes the difference between another fashion portrait and a really interesting, beautiful portrait.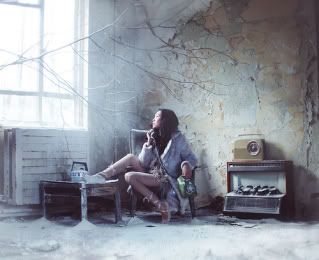 10. Your photos seem to incorporate your surroundings and the elements, is this a big part of your style?
Absolutely - I grew up on a farm in the countryside so I have a huge affinity for the outdoors. Plus all indoor locations available to a 19year old girl on a budget aren't very interesting or illegal to enter.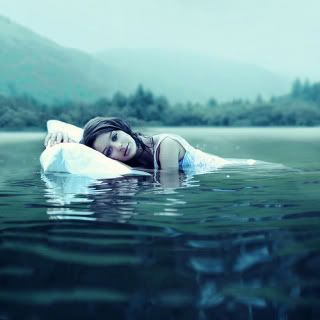 11. What is your favourite fashion shot you have taken? (Link and describe why)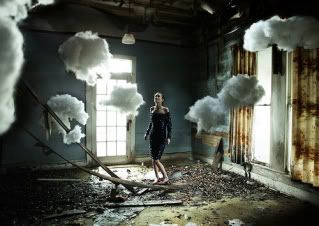 http://www.flickr.com/photos/rosie_hardy/4320682080/
I loved doing this shoot, because it really reflected how I felt in that moment in time. My ex and I had just decided to split, and I was in a foreign country about to move back home. I felt like I was letting go of an entire part of myself, and I felt lost like a child but at the same time hopeful for what else was ahead of me in my life. I was feeling very unemotional about my future, but at the same time emotional at the prospect of change. I wanted to portray that, so with the help of my friend Ed we found this old abandoned house (with permission!) which had this dilapidated room, which presented the preset of my life - in pieces. I had the model, Tara, lift her head towards the clouds but with an expressionless face, to demonstrate forced progression with life. The clouds were there as a reminder that it's not all bad, that things would get better, that escapism was always around and that you can do whatever you want with your life from here on out, you can see whatever you want to see and believe what you want to believe.
12. What are some of your favourite films, books and musicians?
Right now I love the Cinematic Orchestra and Radical Face, I've been listening to lots of Ingrid Michaelson and Joshua Radin. I also HAVE to get my boogey on to Flo Rida's Low whenever it comes on. My favourite film of all time is A Beautiful Mind. I'm fascinated by the human mind and think people like John Nash are just the most interesting, beautiful people on the planet. I also love the Shawshank Redemption, and Zoolander.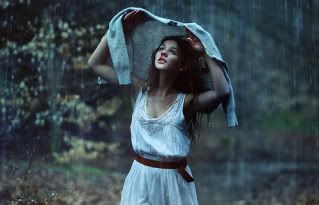 13. What has been your biggest achievement so far with your photography?
Good question. Probably that I've been able to travel to America because of it, I've worked with some pretty awesome people and had so many messages from people telling me I have inspired them. That's probably the best thing. Hearing you have inspired someone, you can't beat it!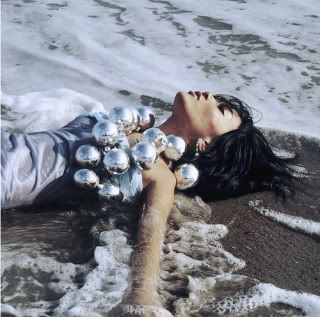 14. Do you think it's hard to be original in fashion? How do you keep your ideas original and fresh?
Of course - it's not just hard, it's impossible to be original in anything. Everything I've seen, every ounce of data that has ever flown through my synapses to create an idea, it's all come from other people and what they've done. Everything I've seen, everything I've heard, every feeling I've felt has come from watching other people and the world around me. You can't be 100% original, but you can be creative with the data you have - use it to create something unusual, put 3 + 4 together instead of 2 + 2. And if it fails, so what? In 100 years your picture might be regarded as revolutionary by the purple monkeys who took over the robots.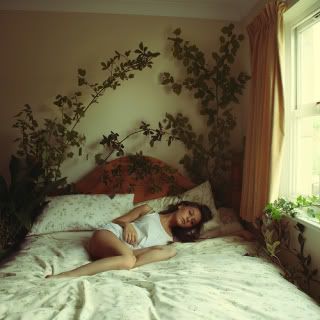 15. Which fashion photographer do you think i should interview next and why?
Tim Walker, because I'd love to read that!
16. Do you often change a lot of the original photo in Photoshop?
Yes, almost always.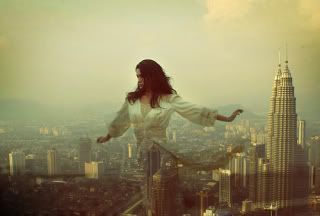 17. Do you think you have an original style that is you own?
No, I think my style is a mix of photographers I have seen and worked with, and people whose art I've seen and enjoyed. Maybe all rolled up into a giant ball it's technically my own style, but really the elements which make it up are just elements I love in other peoples' work, and their inspirations work, and their inspirations' inspirations' work and so on and so forth.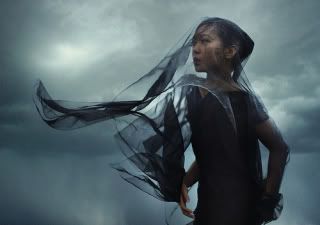 18. Give us the skinny, what's the next big project you've got coming up?
There's a bluebell field in the woods near my house, it's blooming soon, and I am so so excited. I walk through there at least once a week to keep tabs on when they're coming out because I missed it last year and wanted to cry.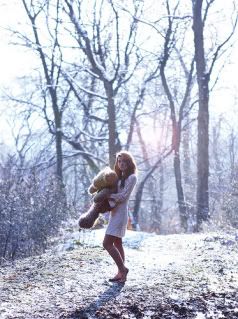 19. Which actor would play you in the film of your life?
Ricky Gervais, I think he'd do a hilarious impression, and there's no way that film would make it as a serious drama.
20. What did you want to grow up to be when you were a kid?
I wanted to be a singer when I was really young, then I developed hearing and wanted to be a psychiatrist.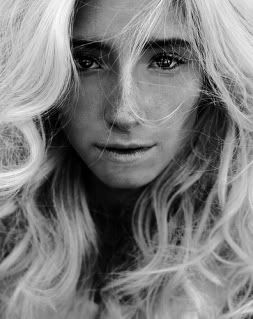 Thank you so much Rosie :)
If you haven't looked at her stream before you can find her Flickr
here
Follow her on twitter
here
And finally her website and blog
here
Please comment and show Rosie your support :)
xxx