Continuing my feature series, may i introduce the beautiful Anna Morosini. Anna is a master of light and sentuality, she has a way of conveying a message in her photos that allows you to fall in love with every image.
Here is her passion in her words....
1. Fill me in on your background, where are you from and how did you get in to photography?
I'm from Foligno, a small city in the middle of italy and i got into photography because of my father, who has my same passion and who always photographed my family and my life too.
2.
Who has influenced you the most in terms of photography?
I don't know...I don't have a straight reference point in photography...i'm probably most influenced by paint artists, from Caravaggio to Hopper to Klimt. In photography my favourite is Sarah Moon, but I also really love Paolo Roversi and Francesca Woodman (and many others).
3. What is your favourate style of photography (Self portraiture? Fashion? Documentary)?
I really love people portraits. In all kind of photography...from fashion to documentary...cause i believe that in a photograph i can reveal the deep essence of people...without words.
4. What is your process when taking photo's, from getting ideas to editing?
There is not only one...many times i simply find a great light in a room of my house (i'm really addicted to light) and so i "see" the picture before taking the photograph. Other times i get an idea before (maybe suggested by something, a story, a fact, a movie, a conversation...) and then i try to find the elements to create it (model, places, light, mood).
5. Where do you hope to go with your photography?
I don't know...for now, photography is still a passion for me...and not a job. I probably hope to get better and better...and to make expositions all aroud the world, and maybe work with photographers that i love. I also love some kind of fashion photography (like Paolo Roversi's one), so i 'd also like to get into it.
6. If you could take photos of anyone, alive or dead, who would you shoot?
OOOH, lovely question :). I m really fascinated by humans...so it's really difficult to make a choise. From the most simple, i'll love to shoot Josh Beech, a new generation of english model, that i really like. And also, remaning in the model world, Natalia Vodianova.
7. On your Flickr it seems like you play a lot with light, is this natural light? Any cool tips on how to use natural light to make an amazing photo?
I'm lucky cause i live in a house with an amazing natural light...and i almost use only this kind of illumination...cause natural light is more simple and smooth for me to use.
8. What would be your fantasy location to shoot at?
I'll love to shoot in Versailles rooms and also in japan when gardens are full of cherry blossom trees :)
9. What is your best tip to taking a striking photo?
The most important thing to me is to let myself captured the picture, the same as i see it in real life. I always need an exchange.
10. Your photos seem to be mostly of women, why is it that you prefer to shoot women?
Maybe cause i'm a women. When i take a portrait of someone I always try to reveal what she/he has inside...so it's probably easier for me to do this with women. And also because i think that women's bodies are more intense, and delicate and intresting :)
11. What is you favourate photo taken by another photographer?
I absolutly don't know...i'm fascinated by so so many photographs, so is impossible to me to anwer this question. I can say which picture i've got on my wall, over my bed. It's this one: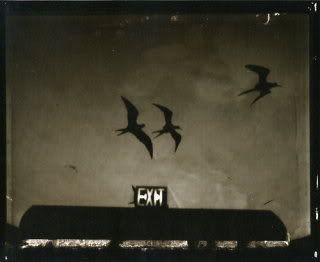 It's by sarah moon. I think that it represents what photography means to me. An exit way to reality (or maybe the most superficial part of it) and at the same time, a prefect way to understand reality as it is.
12. What is your favourite photo you have taken?
I don't know...i've a sort of relationships with my pictures...kind of love/hate stories so it's hard for me to make a choise.
Probably one on my favourite ever and one that is really representative of my photography is this one:
I think the reason is because I took it in a really particular time, in a particular place (lofoten island during 25 days on the road shooting only with polaroid cameras)...there is a daily situation...a naked jung girl in her room, near a window..everything is so delicate and so intimate...but also there are some elements that makes me quite restless, uneasy...the light, the sea, the tones...that is a thing i love: that picture could have been me in every place and in every time.
13. What are some of your favourite films, books and musicians?
I don't like to talk about my personal things...that's why i don't have facebook and stuff like that :) I love Fargo, Magnolia, Stand by me (as movies) ... my favourite book is "Oceano, mare" (Alessandro Baricco) but i read a lot so I can't make other choices. About music...oh my god...I love too much music...my boyfriend gave me a Nick Drake CD, for Valentine's day, "Pink Moon" that is lovely. I simply adore Radiohead, if I have to choose one.
14. Do you think it's hard to be original in photography? How do you keep your ideas original and fresh?
It's hard to be original...but I don't try to be original...is the worst thing to do if you really want to be.
15. Which photographer do you think I should interview next and why?
Oh... James Whitmore definately...or Hannes Caspar (bluecut on fickr) on Alina Lebedeva.
16. Do you often change a lot of the original photo in Photoshop?
Absolutly not..i really don't know how to use photoshop :) and i also love natural pictures and effects.
17. Do you think you have an original style that is you own?
I think yes. Also because there are many people that recognize my pictures, many without my name below.
18. Do you find there to be a lot of arrogance in the photography world?
It's a strange world...with internet everyone can share his own things and this is great...but at the same time this sharing creates a really big competition. I'm lucky because internet, and flickr made me known in a really small amount of time and so i went outide the web so soon, with publications and exhibitions.
19. Give us the skinny, what's the next big project you've got coming up?
To be rich and famous? :) ...no, i don't know..i'll let you know soon i promise! But now, i'm still working on fourlines project, that is having a real big success.
20. Which actor would play you in the film of your life?
Rechel Weitz because my boyfriend likes her :). No...I don't know..Kaya Scodelario.
21. What did you want to grow up to be when you were a kid?
I'm still a kid!!
Personally, i get lost in Anna's work, when chosing photos to include in this feature i literally wanted to include everything in her steam!! Obviously i didn't....but i implore you to go have a look at her massive plethora of inspiring and soulful photographs.
Please look
HERE.